Voters Would Rather Invite Trump to a BBQ, But Want Clinton to Be President, Poll Finds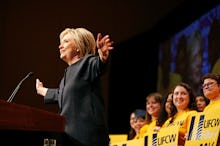 Hillary Clinton holds a narrow lead over presumptive Republican nominee Donald Trump in a nationwide poll from Quinnipiac University released Wednesday morning.
Clinton leads Trump, 45% to 41%, according to the survey, which was conducted from May 24 to May 30.
Read more: Large Chunk of Donald Trump's Donations to Veterans' Groups Didn't Come Until Last Week
Her lead narrows when third-party candidates are included, taking 40% to Trump's 38%, with Libertarian nominee Gary Johnson pulling 5% and Green Party candidate Jill Stein with 3%.
Clinton's lead is bolstered by women, who back Clinton over Trump by a margin of 54% to 30%, as well as minority voters. Black voters support Clinton over Trump by a whopping 93% to 4%, while Hispanic voters back Clinton over Trump 65% to 18%.
Trump is keeping the race close thanks to male voters, who support him over Clinton by 51% to 35%. Voters would also rather invite Trump to a "backyard barbecue," with 47% wanting to eat burgers with Trump to 39% who'd like to grill with Clinton.
"This is a very tight race that will divide Democrats and Republicans, the young and the old, white, black and Hispanic voters — and husbands and wives — in the months ahead," assistant director of the Quinnipiac University Poll Tim Malloy said, according to the release.
The poll also found that Sen. Bernie Sanders holds a wider lead over Trump, 48% to 39%.
However, Sanders is far behind in both delegates and the popular vote, and is unlikely to overtake Clinton to capture the nomination. And the poll found Clinton still leads Sanders among Democratic voters, 53% to 39%.