Quentin Tarantino Project Looks for "Whores" in Facebook Casting Call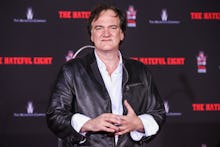 An reportedly upcoming, untitled Quentin Tarantino-produced Western made a dubious casting call ahead of its filming in June, with a post on Facebook looking for "whores" for the film. The post was submitted by a casting agency, and while it's since been taken down, entertainment blog Women and Hollywood caught a screengrab and shared it — though the blog decided not to publicly identify the agency in question. 
Additionally, the post asked that actresses wear dress sizes 2 to 8, and if interested, they should submit photos and information with the subject line "Whore." 
As Women and Hollywood's post noted, the casting notice could have easily dropped the term "whore" for less degrading terms like "prostitutes, saloon girls or brothel workers," but instead made a decision emblematic of a larger issue with Hollywood sexism. 
"Aside from the fact that there are better words to use if one is looking to cast women who work in the sex industry, this description is actually a typical example of Hollywood sexism, particularly as it pertains to roles for women," the post read. "Words carry weight, and the word 'whore' comes with a lot of baggage." 
While the blog reported it was told the film "was written and will be directed by a woman," the language used in the casting notice is not an anomaly. A video project from March, Casting Call: The Project, showcases several actresses reading and reacting to real casting calls, and two replicated female roles quickly stand out. "Many of these calls feature women reading for roles that fall into one of two categories: the va-va-voom seductress or the doting, innocent wife/girlfriend," Abby Carney wrote for Mic. "It's the madonna/whore complex writ large, and actors are tired of it." 
It's clear the reportedly Tarantino-produced film will fall into the former. 
Read more: Sexism in Hollywood Is Alive and Well — And These Casting Call Horror Stories Prove It