Instagram Rolls Out #RunwayForAll to Address Fashion's (Lack of) Diversity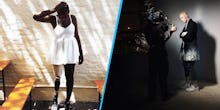 This week, Instagram is doing its part to make sure that you know Mama Cax's name... and Shaun Ross' name... and Clémentine Desseaux's name... and Londone Myers' name... and Jillian Mercado's name. 
With a new hashtag campaign, #RunwayForAll, Instagram's own account, boasting over 162 million followers, will be shining a light on the above models who are breaking the mold of what a model usually looks like (i.e., white, tall and thin, with a name that may or may not rhyme with Shigi Shadid).
Read more: The Latest "Diversity" Numbers Are In — Here's How White Fashion Week Was
The campaign comes at a time when fashion as a whole is paying more attention to diversity in ad campaigns and on the runway. Compared to last year's numbers, more models of color have been cast in fashion shows and ad campaigns this past year than the year before. 
Slowly but surely, the fashion industry is accepting people like Cax, who wears a prosthetic leg, and Mercado, who has muscular dystrophy and uses a wheelchair, and bringing them into the fold. 
On Monday, Instagram highlighted Cax, and let her tell a bit of her story about getting into the modeling world. 
"Eight years ago, after getting my leg amputated, the idea of being a model was even more far-fetched," she told Instagram. "Through modeling I hope to show that beauty does not always wear a size zero and beauty does not always walk on two limbs." 
On Tuesday, #RunwayForAll highlighted Shaun Ross, who has albinism. 
"I remember when I first entered the industry all I saw were models that looked the same," he told Instagram. "Now here we are almost 10 years later, and I see the choice I've made has helped the industry to see beauty in many ways, such as casting models and rising icons like @winnieharlow, @jilly_peppa and more to help lead the fight with me to diversity." 
Ross has also led a hashtag campaign of his own, #InMySkinIWin, which encourages people to love how they look. 
"Our goal is to highlight some of the bravest and most creative models on Instagram who are building their own audiences and telling their own stories," Instagram's fashion and arts community lead, Kristen Joy Watts, told Refinery29. "These breakout stars aren't conforming to the industry's traditional mold and, in fact, are redefining it."
Later on Wednesday, Clémentine Desseaux, who is plus size, will be sharing her story. 
"I love that most of us ... are using what used to be our curse (skin color, handicap, curves, freckles...) to succeed and show the world that there's no one perception of beauty, that success isn't determined solely by what you look like or who you know but also by  what you stand for and represent," Desseaux said in an email.
On Thursday, it will be Londone Myers and on Friday, it will be Jillian Mercado, who recently landed a gig modeling Beyoncé's latest merchandise. 
According to Instagram, these are the models to really watch. And with a message of diversity and inclusivity, it's a welcome deviation from fashion's stale norms.