A New Study Shows Renewable Energy Just Had Its Best Year Yet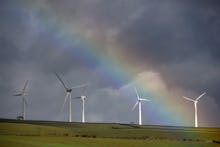 A new report has found that renewable energy power capacity around the world grew more in 2015 than in any other year in global history.
The Renewables 2016 Global Status Report, published Wednesday, determined that by the end of 2015, "renewable capacity in place was enough to supply an estimated 23.7% of global electricity." A majority of the new additions to sources of renewable energy in the power sector came through wind, solar and hydropower, according to the BBC.
Read more: Portugal Just Went 4 Straight Days Without Using Fossil Fuels
"Renewables are now established around the world as mainstream sources of energy," the report declares. It attributes the surge in investment and construction to many factors, including the declining cost of renewable technologies, shifting public policy priorities, growing concern about the environment and escalating energy demands in developing and emerging economies.
The report also found that for the first time ever, developing economies invested more in renewable power and fuels than developed economies. "The developing world, including China, India and Brazil, committed a total of $156 billion, up 19% compared to 2014," the report states. "China played a dominant role, increasing its investment by 17% to $102.9 billion, accounting for 36% of the global total."
The renewable energy sector also became a bigger provider of jobs around the world, growing in 2015 to include over 8 million jobs.