Amandla Stenberg Drops One Truth Bomb After Another in Recent Video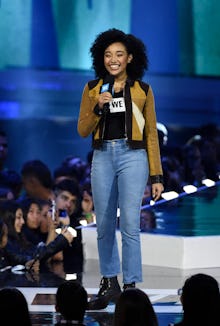 (Editor's note: Although Amandla Stenberg wrote on Tumblr in April about using the pronoun they, those posts also requested that fans retain she/her pronouns on Wikipedia and other forums for Stenberg's public persona. Mic uses individuals' stated pronouns; in this case, Stenberg has stated personal usage of they/them and public usage of she/her. Therefore, Mic's coverage of Stenberg at this time will use she/her pronouns.)
Teen actress Amandla Stenberg nails it every damn time when she calls out injustices of the day.
She was back at it again on Wednesday in an "Ask Amandla" Q&A video for teen girl magazine Rookie.
Stenberg read aloud readers' questions on topics like natural African-American hair, sexual identity and intersectionality, and she gave the most epic, thorough answers — even though she had her senior prom coming up that night and hadn't even started getting ready. 
Here's some top-notch Stenberg wisdom on life:
On natural African-American hair:
On sexual identity:
On intersectionality:
Watch Stenberg's full Q&A below: