You've Been Using Google Wrong This Whole Time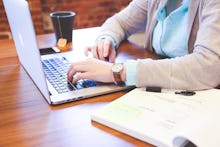 Google is a lifesaver when it comes to tracking down information. But you may not be using it to its full potential.
You've probably just been typing keywords and questions into Google, but there's plenty the search engine can do, beyond returning a list of web pages that match your query.
Search for a certain food, and Google will produce its nutritional information.
In 2013, Google added nutritional data for more than 1,000 different foods and meals, according to TechCrunch. 
You can also have Google isolate a food's nutritional components, such as calories, protein and fat. 
Here's what happens if you search for "protein in chicken breast":
Traveling abroad? There's an easy way to get exchange rates.
Plug in the U.S. dollar amount, followed by the currency to which you'd like to convert it.
You can also check the time in faraway cities.
Just Google "time in," followed by the location.
Google will show the weather forecast in different cities too.
Type "forecast in," followed by the city of your choice.
It can help you brainstorm what sights to see on vacation...
...or which movie to watch next.
Don't feel like pulling out a calculator? Google can also solve math equations.
Just type the equation into Google's search bar.
It can even tackle the complicated math you hated in high school.
Where was this 10 years ago?
If you don't have a kitchen timer, Google has you covered.
Enter "set timer for," followed by your desired amount of time.
Translating text from one language to another is easy.
Here's what happened when we Googled "hello in German."
There are ways to make your regular searches more effective.
Scan a particular website: To search a specific website for a subject, put the website's name, followed by a colon, before your query:
Quotation marks: Put quotation marks around a phrase to make sure Google searches for the words in that exact order.
Eliminate what you don't want: Use the minus sign after your search query to tell Google what you don't want to see in your results.