All the Places You Can Get Free Donuts This Friday for National Donut Day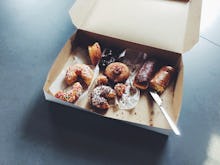 If your favorite price is free, you'll be in luck this Friday. 
In honor of National Donut Day 2016, many esteemed donut purveyors across America are doling out sugary goods free of charge. 
Contrary to other food holidays like Onion Ring Day, this national day of glazed deliciousness wasn't dreamed up as an elaborate ploy by the donut industry for America to focus on their particular food. 
According to Krispy Kreme's site, The Salvation Army created the day in 1938 to celebrate donut "Lassies." These people gave donuts to World War I soldiers, and it's widely believed this led to the donut's rise in popularity when troops returned to the U.S. after the war. 
Some donut shops, like Krispy Kreme, honor Donut Day's origins by encouraging customers to make donations to Salvation Army, but most simply use the day as an excuse to give America some extra sugar for free. 
Wondering how to get your paws on your own free donut? We've got you covered. 
Here's where to get your donut fix this Friday, June 3: 
• Dunkin' Donuts: Customers can score a free classic donut when buying any beverage. 
• Krispy Kreme: No purchase necessary here — stop in and get a free donut of any flavor. 
• Entenmann's: Win free donut for a year (and other prizes) through a sweepstakes. 
• Cumberland Farms: Get a free donut when buying a beverage. 
• Honey Dew Donuts: Buy a drink, get a free Mocha Madness donut. 
• Duck Donuts: Get a coupon from the company's Facebook page for a free sugar donut. 
• LaMar's Donuts: Get a coupon from the company's Facebook page for a free donut and free 16-ounce cup with any purchase. 
If you manage to hit up all of these spots within the 24-hour time frame, well, wow.