Thailand's Tiger Temple Had 40 Dead Tiger Cubs in Its Freezer, Investigators Find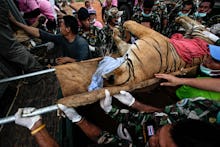 Forty dead tiger cubs were found in the freezer of a Buddhist temple west of Bangkok, Thailand, on Wednesday, just one day after 33 live tigers were confiscated from the temple by the Thai government. It's unclear what the purpose of preserving the cubs was for, however the temple has been accused of wildlife trafficking in the past.
The discovery of the tiger cubs comes as part of an ongoing raid and investigation by wildlife officials and police in recent days, and will result in a new set of criminal charges. Wildlife organizations and the government have spent years trying to thwart the temple's practices.  
Read more: Fox News Blamed Dad's Alleged "Criminal History" for Gorilla's Death at Cincinnati Zoo
Adisorn Nuchdamrong, deputy director-general of the wildlife department, explained the cubs were kept in the same freezer as the food reserved for living tigers, according to Al Jazeera. "The temple never registered these dead cubs, they are illegal," Nuchdamrong added.
"They must be of some value for the temple to keep them, but for what is beyond me," he also said, Reuters reported. 
In the freezer with the cub carcasses was an endangered binturong, or bearcat.
Wat Pa Luangta Bua Yanasampanno, known more commonly as Tiger Temple, is a major tourist attraction, where, for a fee of 600 Baht (approximately $17), one can be in proximity with heavily sedated tigers, photo ops abound. The temple, according to Thai officials, generates nearly $6 million annually in ticket sales. 
It has been the focal point of scandal for a number of years — while it labels itself an animal wildlife sanctuary, activists describe it as nothing more than a blackmarket wildlife trafficker. Even former Tiger Temple employees have alleged animal abuses, saying tigers are beaten, improperly fed and confined in small cages. 
Furthermore, Tiger Temple has been accused of farming tigers: speed breeding them, killing them and selling different parts of their bodies on the black market. 
On Monday, the temple's official Facebook page reposted a March 4 message in response to the cub controversy: 
There are rumors and allegations constantly being spread on the internet about Tiger Temple. For years many were left unanswered, as the Buddhist way is to keep silent and not engage a fight. However, now with a lot more focus on the Temple, it is time to respond. There have been a lot of recent posts about missing tiger cubs which accuse Tiger Temple of selling them to the black market. This is not true.
The United Nations Office on Drugs and Crime notes that wildlife crime is very often interconnected with other serious, violent crimes. 
"In some cases money goes to financing terrorism and contributing to instability," UNODC states on its website. "These crimes are also closely interlinked with money-laundering, corruption, murder and extreme violence."