A Group of Conservative Rabbis Just Passed a Resolution Backing Transgender Rights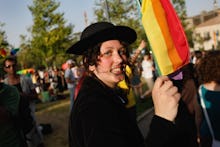 While transgender people are prohibited from using the bathroom they choose in states like North Carolina, a congregation of prominent Conservative Jewish rabbis passed a resolution last week supporting the inclusion and rights of transgender people within the Jewish community.
According to the Washington Post, this resolution by the Conservative Judaism denomination comes almost a year after the progressive Reform Judaism sect passed their resolution in 2015. Three other Christian denominations — the United Church of Christ, the Episcopal Church and the Metropolitan Community Church — also made statements expressing support for transgender and gender non-conforming people. 
Historically, the Conservative Judaism denomination hasn't always leaned so heavily into more progressive ideals: Women were prohibited from being ordained rabbis as late as 1983, and for centuries, the Jewish sect had prohibited and condemned homosexuality. It wasn't until early 1990, when the Rabbinical Assembly expressed their devotion to work towards full equality of gays and lesbians, that the Assembly began taking a more progressive stance. Since then, the Assembly has made more progressive changes like ordaining gay, bisexual and lesbian rabbis into their congregation in 2006 and permitting same-sex marriage ceremonies in 2012. 
The Rabbinical Assembly, made up of 1,700 rabbis, stated that all those who identify as transgender will be identified with the name, gender and pronoun of their choosing, and those will be used when they are called to recite the Torah.
The resolution starts by stating that the Torah, considered the Hebrew Bible, explicitly says "all of humanity is created b'tzelem Elohim, [which means] in God's Divine Image," and goes on to acknowledge the discrimination and prejudice transgender people face in employment, education, health care and other government benefits. 
The resolution also states that the Conservative Jewish denomination will implement full recognition and accommodation for transgender people within the religious institution:
"Be it further resolved that the Rabbinical Assembly encourage all Conservative Movement synagogues, camps, schools, and affiliated organizations to work toward becoming explicitly welcoming, safe spaces for transgender and gender non-conforming people and evaluate their physical site needs, workplace needs, and language that impact gender and gender expression."
Furthermore, the rabbis of Conservative Judaism has called on for the religious community to educate themselves on the issues and needs for transgender equality to ensure a more inclusive environment. 
Several people took to Twitter to express their support for the resolution:
While this is a huge step forward, the transgender community still faces big obstacles when it comes to employment, using bathrooms, changing their gender on birth certificates and even dealing with discrimination on basic necessities like housing and shelter. They're also frequent targets of hate crimes, in which the rate of such incidents tripled in 2014.
Perhaps unusual, but support from religious communities like the Conservative Judaism denomination is an important stepping stone in the fight for transgender equality.