Wealthy Tulsa Sheriff's Deputy Who Killed Unarmed Black Man Gets 4 Years in Prison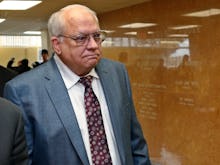 Former Tulsa County Sheriff's Reserve Deputy Robert Bates was sentenced to four years in prison Tuesday for killing Eric Harris — an unarmed black man — during an arrest in Tulsa, Oklahoma, last year.
Bates was found guilty of second-degree manslaughter in April. The jury recommended he receive the maximum penalty for his crimes.
Harris' death came in the wake of similar police shootings involving unarmed black men — including Michael Brown in Ferguson, Missouri, and Eric Garner in Staten Island, New York, in 2014. These tragedies helped fuel the Black Lives Matter protest movement.
Bates — who was not a sworn law enforcement officer at the time of the shooting — is one of the few perpetrators to face jail time for his crimes.
You might remember Bates' case: The 74-year-old white insurance executive donated thousands of dollars' worth of equipment to the Tulsa County Sheriff's department over the years and was given the title of "reserve deputy" in return for his generosity.
This allowed Bates to accompany Tulsa County sheriffs when they were on patrol — a privilege that proved fatal during a sting operation in which officers attempted to arrest Harris, 44, and ended up killing him in April 2015.
Bates was the man who fired the fatal shot. As officers held Harris to the ground, Bates allegedly mistook his own firearm for a stun gun, drew it on Harris and pulled the trigger. The incident was captured in a graphic body camera video, which you can watch below.
"He shot me," Harris can be heard saying, repeatedly. "I'm losing my breath."
"Fuck your breath," one of the officers replied.
Harris' family has since said they don't believe race played a role in the shooting, according to ABC News. That aside, the incident certainly raised question about Tulsa County's reserve deputy program. 
After Bates shot Harris, anonymous sources told Tulsa World that supervisors at the county sheriff's office were urged to lie about how well the 74-year-old had been trained. They had reportedly given Bates credit for firearm training he never received — an allegation that was later corroborated when Harris' family lawyers released a sheriff's memo urging supervisors to let Bates slide with inadequate training.
This prompted the program to be suspended, and then-Sheriff Stanley Glanz to resign. The department's new head sheriff, Vic Relgado, plans to relaunch a more stringently monitored version of the program in time for the Tulsa State Fair in September.