Lupita Nyong'o Explains Why Working With a Female Director on 'Eclipsed' Is So Important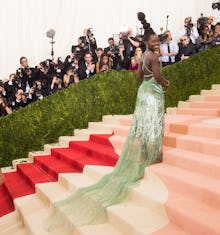 When it came time to choose her first post-Oscar-win projects, Lupita Nyong'o chose a couple of CGI franchises — Star Wars, The Jungle Book — and a little play called Eclipsed. That show, in which she understudied back at Yale's drama school, was written by a woman of color, Danai Gurira. The entire cast of the current Broadway production are women of color. 
Perhaps most significantly of all, it's directed by a woman, Liesl Tommy. Even in this diverse Tony Awards season, she is the only female director nominated for an award. So it's fitting that, in a new roundtable conversation with the Hollywood Reporter, Nyong'o explained just how important having a female director is.
Read more: 'Black Panther' Director Ryan Coogler Nails Why Hollywood Needs Women Behind the Camera
Eclipsed in particular is a deeply woman-centric show that follows five Liberian women during the Second Liberian Civil War. A female director, Nyong'o noted, is all but required. 
"It is a piece that is a very, very intimate female piece," she told the Hollywood Reporter. "The writer is female. All the characters are female. And Danai deliberately left out the masculine aspect because war is so much driven by male energy and males that the female story seldom gets told. Danai really wanted to give voice to that experience and highlight it. So I feel, particularly with this piece, it being in a woman's hands was very, very helpful to really getting into the nuances of the effects of sexual brutality on the female body and the female spirit."
Nyong'o's comments are exemplary of what others have said in the past, including and especially Creed director Ryan Coogler. In May, he told Fast Company that working with women behind the camera isn't just nice, it's necessary for creating the best possible product.
"Everybody's a prisoner of their own perspective," he said. "I can only see the world through my own eyes. The last few times I made a movie, I had a cinematographer who was a woman. And my editors, one of them is a woman, and the way those two view things and give notes are radically different, and when you have that balance, it's really an asset."
There are plenty of reasons why — and there are plenty of gifted female directors out there. At least some in Hollywood are taking note.