Common Drops an Epic Freestyle About the Reality of Being a Black American on Radio Show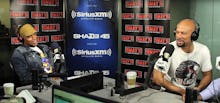 Coming off Grammy, Oscar and Golden Globe wins last year, Common is hardly resting on his laurels. The Chicago-born MC stopped by radio show Sway in the Morning on Tuesday to discuss the upcoming American Black Film Festival, which he'll be working as the festival's celebrity ambassador. He did so in the best way he knows how: by spitting an epic freestyle on the topic. 
Common offers two verses over a DJ Premiere-style beat, going in on the stereotypes holding back black Americans. He links America's slave-owning past to the present day state-sanctioned violence that took the lives of Sandra Bland and Trayvon Martin, both name dropped in his piece. He talks the discrimination black actors face in the film industry, shouting out Viola Davis and Star Wars' John Boyega. 
Two decades in, Common's rhymes have not dulled a bit.
"Instead of educate, they'd rather convict the kids," Common raps. "As dirty as the water in Flint, the system is."
"Is it a felony or a misdemeanor?" he continued. "Maria Sharapova making more than Serena."
"It took Viola Davis to say this," he said, likely referencing the How to Get Away With Murder star's Emmy acceptance speech. "The roles of the help and the gangster is really they gave us."
Watch the full freestyle below.