Flint Water Now Safe for Bathing and Hand-Washing, According to Scientist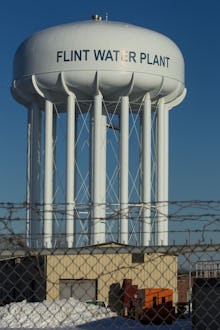 The water in Flint, Michigan, may not be ready to drink, but one prominent scientist is now saying it is clean enough for bathing and hand-washing. 
Marc Edwards, a professor of Engineering at Virginia Tech whose testing was among the earliest indicators of the growing crisis in the municipal water supply, now says that lead levels have fallen to a point where the water can be handled and used as normal for all but personal consumption.
Read more: "Don't Send Water": Michael Moore Laid Out the Painful Truths About Flint in This Letter
"We're seeing some very, very encouraging results," Edwards said at a press conference Tuesday, the Guardian reported. "Many parents were deciding not to allow their children to take baths or shower or even wash their hands, they were so afraid," he added to the newspaper in a phone interview. 
More good news: Edwards said he expected lead to be down to levels safe enough to drink within six months.  
However, the science-supported incremental win hasn't stopped officials from touting a robust victory from the recovery effort — some even boldly drinking from the tap themselves. Rick Snyder, the state's Republican governor who has taken the lion's share of criticism for the crisis, drank water in the city on a visit in April, and vowed to drink it exclusively at his home and office, the Detroit Free Press reported.  
When President Obama visited in May, he too drank from a glass of H2O while urging all children in the city to be tested for lead contamination. 
As Mic previously reported, the city of Flint has become a byword for municipal blight since local officials rerouted the municipal water supply away from Detroit to the Flint River in 2014. The corrosive water leeched lead from the city's pipes, precipitating the current crisis.