The Most Important Races in 2016 You're Probably Not Paying Attention To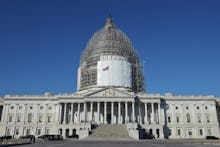 It's not just the presidency that's up for grabs in 2016.
As presumptive Republican nominee Donald Trump and likely Democratic nominee Hillary Clinton duke it out for the White House, Democrats and Republicans will be fighting for control of the Senate — the outcome of which will be crucial to the success of the next president.
Republicans currently control the chamber — and with that control have the power to block President Barack Obama's key initiatives, as well as his Supreme Court nominee Merrick Garland.
Democrats want to win control back, and to do so must net five of the 31 Senate seats on the ballot in 2016. (Only one-third of the Senate comes up for election every two years.)
Lucky for Democrats, many of the seats up in 2016 are held by Republicans in states Obama won in his 2012 re-election campaign. That could put the political winds at Democrats' backs — especially with an unpopular Trump as the GOP's presidential nominee.
Here are the seven seats likely to determine which party controls the Senate, in no particular order:
Florida
After his presidential bid came up short, Sen. Marco Rubio is not running for re-election to his Sunshine State Senate seat. That leaves his seat open in one of the largest and more competitive states in the country.
Without Rubio on the ballot, five Republicans announced bids to replace him — and will face off in an Aug. 30 primary. Candidates include everyone from Rep. David Jolly, a former lobbyist railing against money in politics, to Carlos Beruff, a wealthy real estate investor who's already spent $3 million of his own money to self-fund his race.
However, in recent days, Republican leaders including Trump himself, have sought to convince Rubio to reconsider his exit from the Senate and run for re-election — a sign the GOP is worried about the strength of its primary field.
On the Democratic side, Reps. Patrick Murphy and Alan Grayson are in a close race as they battle it out for their party's nomination — a match-up that's also led to much drama.
Democratic leaders are lining up behind Murphy and against Grayson, a progressive from Orlando who is under an ethics investigation over his management of a hedge fund. Grayson has denied any wrongdoing.
Political handicappers rate the race a pure toss-up, and whichever party carries the state in the presidential race is likely to have an advantage in the outcome of the Senate contest.
Nevada
Senate Minority Leader Harry Reid is calling it quits after more than 30 years in Congress, leaving his Nevada Senate seat open for the first time in decades.
Reid's seat is one of the few Democrats are defending in 2016, and a loss here for Democrats would set the party back in its quest for Senate control.
Reid has endorsed a potential successor and will campaign for former Nevada Attorney General Catherine Cortez Masto — who is hoping to be the first Latina ever elected to the Senate in a state with a large Hispanic population.
She will face Rep. Joe Heck, a veteran who represents a swing House seat in the Las Vegas suburbs.
Political handicappers rate the race a toss-up.
Wisconsin
Freshman Sen. Ron Johnson is one of the most vulnerable Senators up for re-election in 2016.
A wealthy businessman-turned-senator, Johnson is running in a state that's voted for a Democratic presidential nominee every year since 1988. And polling shows Trump unlikely to change that trend.
Additionally, Johnson is facing a rematch with the man he ousted six years ago: former Sen. Russ Feingold, a campaign finance reform advocate. Feingold currently leads Johnson in early polls by 5.7 percentage points.
Johnson is one of the top fundraisers among the Democratic Senate field, a pace that's likely to increase following an endorsement from Sen. Bernie Sanders last week.
Political handicappers currently rate the race a toss-up.
Illinois
Illinois is the state most likely to flip party control in 2016, according to political analysts.
The seat is currently held by Sen. Mark Kirk, a veteran and also a disabled American following a stroke in January 2012.
Kirk is hoping his more moderate profile can help him overcome the political tides in Illinois, a state that hasn't voted for a Republican presidential nominee since 1988.
But he faces a top Democratic opponent in Rep. Tammy Duckworth, an Iraq War veteran who lost both of her legs in a helicopter crash during her service.
And running on the same ticket as Trump in a blue state like Illinois make Kirk's chances look bleak.
Political handicappers already rate the race as leaning Democratic.
New Hampshire
Democrats are heavily targeting the New Hampshire Senate seat currently held by freshman Republican Sen. Kelly Ayotte.
Obama won the Granite State in both 2008 and 2012, which Democrats say makes it ripe for a pick-up on the Senate level.
Democrats recruited Granite State Gov. Maggie Hassan to run against Ayotte. And polling has shown the race between the two female politicians to be close, with Ayotte holding a slight lead.
Trump's performance in New Hampshire is likely to play a major role in the outcome of this Senate contest. Polling currently shows Trump running competitive with Clinton in the state.
Political handicappers say the race currently tilts Republican.
Ohio
Freshman Sen. Rob Portman is well-known in Washington, D.C., but less so back home in Ohio — a swing state both Clinton and Trump will heavily compete for in November.
Democrats are hoping to capitalize on voters' unfamiliarity with Portman and define him as a Trump Republican in the hopes of making Portman unpalatable to the state's swing voters.
But Portman, a moderate Republican and one of the GOP's best fundraisers, began spending money early to try and raise his familiarity and popularity among voters in the Buckeye State.
And he'll have ample money to spend against his Democratic opponent, former Gov. Ted Strickland, who served in Congress for a decade before serving one term as governor in 2007.
Polls currently show the race in a statistical dead heat, though political handicappers give Portman a slight edge.
Pennsylvania
Like many others on this list, Sen. Pat Toomey is a Republican facing re-election in a blue state — putting him among the ranks of the most vulnerable Senators in 2016.
Toomey barely won his seat in 2010 — the year in which Republicans were swept into office on the Tea Party wave.
In the years since his election, Toomey has sought to moderate his record — including introducing gun reform measures — but he'll still have to face an increasingly Democratic electorate in the Keystone State.
Toomey will face Democratic nominee Katie McGinty, who won a competitive primary for the nomination thanks to the backing of top Democrats in Washington.
Political handicappers say the race currently tilts Republican.