Donald Trump Supporters in California Get the "Safe Space" They Crave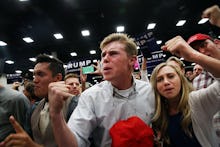 In California, historically an overwhelmingly blue state, some conservatives dream of somewhere away from liberals' political correctness, Bernie Sanders and Hilary Clinton voters' ridicule and college students' demands for cushy safe spaces. What might a place like that look like? Well, a safe space.
On Tuesday, Tracey Lindsey told San Francisco radio station KALW that she and about 11 other Donald Trump supporters have carved out what she calls a "safe space for them to talk" by way of regular meetings. Lindsey said it's become a necessity after she and others have been on the receiving end of anti-Trump hate. 
"We've had people ... say 'fuck you,'" she said, adding that the expletive has also been scrawled on her vehicle next to her Trump bumper sticker. "They put dog poop in bags, next to the windshield wiper, near the bumper sticker," Lindsey said.
Mark Barnes, who attends the meetings with Lindsey, told the station that he needs the space because he's hard-pressed to find someone who shares his political opinions in his hometown of Martinez. "I kind of feel all alone, as a matter a fact," he said.
Read more: Nearly Half of Trump Supporters Are Behind Him Because They "Don't Want Hillary Clinton"
Trump supporters may be feeling attacked for their beliefs, but over the course of the presumptive Republican nominee's campaign for the nomination and ultimately the presidency, it's been his opponents who have had to watch their backs. 
Protesters at Trump rallies have been kicked, punched and otherwise assaulted, with people of color being predominantly targeted. 
So while vandalism is no joke, and a "fuck you" is always a bummer, a little (albeit literal) shit-slinging might be preferable to a beatdown.