Florida Mom Rugina Talabert Wants to Walk in High School Graduation After Daughter's Death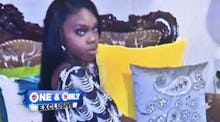 Rugina Talabert isn't graduating from high school this year, but the Florida mom is planning to walk down the aisle at South Dade Senior High School in memory of her daughter, Noricia, a senior who was shot and killed in October, a local ABC affiliate reported.  
"I want to wear her cap and gown," Rugina Talabert told the news station. "I want to sit in the seat where she was going to sit."
School officials have been coordinating with Talabert and local religious leaders for a way to bend the rules. A plan drawn up by principal J.C. De Armas would have Talabert handed a cap and gown on stage, but the grieving mother is adamant that she wear her daughter's cap and gown and walk in her stead.
Noricia had been a straight-A student and hoped to study nursing at the University of Central Florida. In the end, it was agreed that her mother would walk during the graduation's honors students' procession.
Watch the full story here:
Read more: I Went Under the Sheets of New York's Professional Cuddling Industry — Here's What I Found