Iranian 'Salesman' Actress Taraneh Alidoosti Flashes "Woman Power" Symbol Tattoo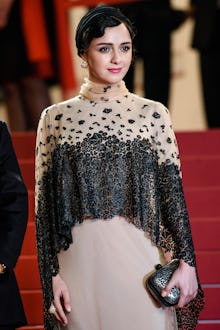 The Iranian internet may be outraged, but we're into actress Taraneh Alidoosti's tattoo. During a press conference for her new film, The Salesman, in Tehran on Tuesday, the so-called Natalie Portman of Iran accidentally flashed what appeared to be the "woman power" symbol — a venus sign with a fist where the vertical line would be — inked on her forearm. As New York magazine reported, the symbol is "often associated with radical feminism" — this in a country where women's rights are "severely restricted."
According to the New York Times, a glimpse of the tattoo sent social media within the country into a shame spiral, prompting Alidoosti to correct her critics in back-to-back Twitter posts. "Keep calm and YES I'm a feminist," she captioned the first tweet, which laid out the definition of the term "feminist" as "a person who believes in the social, political and economical equality of the sexes" (when translated to English). 
The other, a picture of the controversial image accompanied by an explanation of its origins, implied that her tattoo is "a symbol of feminism" rather than a "radical" statement.
According to the Times, some of those angered by the implications of the 32-year-old actress' tattoo accused her of being pro-abortion and anti-family. Alidoosti, who has both a husband and a daughter, clarified what feminism means to her in a separate tweet: "That each human aside from his or her gender has the right to an individuality, and according to that, to choose the life that she or he wants."
Read more: How Women Are Using Tattoos to Celebrate Their Bodies and Empower Themselves