Rob Kardashian and Blac Chyna, a Young Couple in Love, Just Got a TV Show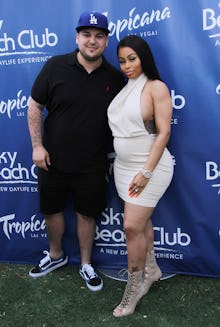 The cable network E! has just announced that its newest reality show will star an obscure couple from California as they navigate their journey from engagement to pregnancy to childbirth. Their names are Rob Kardashian and Blac Chyna, and according to a recent picture of them, it appears that he is a Los Angeles Dodgers fan and she is an eyelash enthusiast of some sort:
From the E! website:
E! is excited to announce the new six-episode docu-series 'Rob & Chyna' (working title), which will follow the whirlwind romance of Rob Kardashian and Blac Chyna. Each one-hour episode will follow the lovebirds from their engagement to Chyna's pregnancy, and everything in between.
Sounds interesting! Although the question does remain: Who are these people? Are they on social media? What do they do for a living? And why don't we know anything about their friends or families?