This Is What It's Like to Be a 'Gilmore Girls' Superfan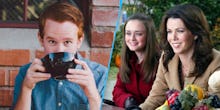 For over a year and a half, Kevin T. Porter has been deeply, critically analyzing every episode of Gilmore Girls. As co-host of the podcast Gilmore Guys, it's his job to dish on each installment, breaking down what's great and what's not. As one could imagine, for a show that inspires devotion like Gilmore Girls does, fan response is often heated.
But Porter can empathize with them. He's a fan himself, one who started watching the show in season four and even posted on forums discussing the show in real-time. In that sense, he makes for the perfect host of a Gilmore Girls podcast: A show with such a passionate fanbase deserves a guide who's been there and done that.
Read more: 'Gilmore Girls' Is Coming Back to Netflix — Here's What to Expect
"I'm 100 percent a fan of Gilmore Girls," Porter said in a phone conversation Tuesday. "Now ... I'm in a position where I need to examine [the show] in detail."
What is it that inspires such passion for Gilmore Girls, a show that was relatively low-rated when it was on the air? Is it loving the bond between mother Lorelai Gilmore and daughter Rory? Is it arguing about Rory's assorted boyfriends, from poor little rich boy Logan Huntzberger to rebellious teen Jess Mariano?
For social media manager Caitlyn Gallip, 23, a devout member of Team Jess, Gilmore Girls has been about the connections she makes in real life.
"I have always watched Gilmore with my mom," she told Mic via email. "In high school, love of the show became a bond for my two best female friends. In college, my freshman year roommate had never seen the show, so it was the first of many shows we binge-watched. She is Team Logan ... [but] we're still best friends."
The show is more than a 42-minute program that ran for seven seasons. It was cultural sustenance for people growing up in the 2000s, as much a part of their childhood as the higher-rated Friends was. It formed bonds, and serves as a reminder of those bonds now.
'Gilmore Girls' formed bonds for fans growing up — and serves as a reminder of those bonds now.
For Miranda Ordonez, a 22-year-old executive assistant living away from home in Los Angeles, Gilmore Girls is a reminder of the family she used to watch it with. "Watching Gilmore Girls was an everyday activity for my family," Ordonez said in an email. "I would get home from dance class around 8 or 9 p.m., and to wind down my parents and I would watch two episodes. ... Anytime I get homesick, I pop in Gilmore Girls and immediately feel better."
That personal connection is a dominant thread. John Kuchta, 30, just recently started watching Gilmore Girls for the first time, at the recommendation of a friend. Like Rory, he spent much of his childhood with his mom — or at a prep school in Connecticut that looks much like Rory's high school, Chilton.
"You know that feeling you get when you realize someone really understands you, and your life?" he explained in an email. "And you don't have to explain anything and maybe you should just stop and get married right then? That's how I'd describe the first few episodes."
Despite the deeply personal connection, Porter has found through hosting Gilmore Guys that there's a connective thread among almost all fans: their kindness. "They're just very well-intentioned people, of all kinds," he said. "We talk to everybody after [live shows], and the thing that unites them is, other than being predominantly female ... is that people are very sweet."
The fervent fans of the show, who increased in number when the series first hit Netflix, led to a well-received reunion at the 2015 ATX Television Festival in Austin, Texas. The passion didn't let up, and as a result, Netflix greenlit a revival mini-season called Gilmore Girls: A Year in the Life, set to debut in late 2016. Many a Gilmore devotee was disappointed by the show's seventh season, written and produced without creator Amy Sherman-Palladino and her husband Daniel Palladino after a contract dispute. A Year in the Life is a chance at closure.
"The seventh season didn't feel the same without them, and I don't think I would have been half as excited if they weren't working on this project," Ordonez said.
This, of course, doesn't stop those fans from having plenty of opinions on the revival itself.
"I want to see where Rory's career has taken her — there was so much focus on her wanting to be a journalist and she had such big ambitions, I hope she's gone far," said Laura Schocker, 30, via email. "As a journalist myself, I'm rooting for her! And I'm excited to check in and see how Lorelai and Emily's relationship has evolved."
Other vocal Gilmore Girls fans interviewed have even more specific requests, with several petitioning to see Rory and a specific guy together. Because there are such disparate interests, there's almost no way A Year in the Life could satisfy all fans.
But the one thing that came up constantly — in hearing from Porter and other assorted fans — is an affection for the show's signature fast-paced dialogue. That's what's key; as 23-year-old fan Sibley Silcox put it, it's the singular thing she needs.
"I'm just hoping that they have the same fast-paced dialogued show," she said via email. "It's one of those shows that I grew up with, so it has such an incredible sense of nostalgia when I watch it. I can't wait to see what they do with these new installments."