Big Sean's Snapchat Suggests Kanye West's 'Cruel Winter' Album May Be in the Works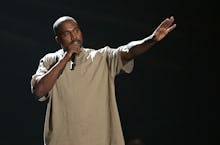 It's been four years since Kanye West dropped G.O.O.D Music collaboration Cruel Summer, which means we've had four years of fans speculating when its promised sequel Cruel Winter would finally arrive. But on Tuesday, a series of Snapchats from Big Sean were captured and reposted on the Kanye West Daily Instagram, suggesting that day may be coming soon.
Read more: 7 Charts Show How Drastically Kanye West's Music Has Evolved
"Pray for me/ I'm about to push the 'Ye button," Kanye spits in one of the clips while Big Sean's headbanging around a recording studio with Yeezus himself. "And they still ain't ready yet for a motherfucker/ Yeezy might have to go and put his Louis on," he said in another clip. This is Kanye in his most lit form, spitting over a marching snare-led beat not unlike Cruel Summer's opener "To the World."
Big Sean's snaps didn't clarify what the track, or tracks, were called, or where they would land. But another Instagram from Fonzworth Bentley, "Producer, Innovator, Arbiter of G.O.O.D. taste," as his bio reads, gave more clues.
"Happening now!" he wrote in one Instagram post sporting the hashtag #CruelWinter.
The project may still be a ways off but West has already promised to deliver a second album this year, tentatively titled Turbo Grafx 16, as a follow-up to February's The Life of Pablo. West's confidante Ibn Jasper already shared some shots of him at work in the studio with Kid Cudi, Plain Pat and Mike Dean. Though in another Twitter stream of consciousness West said he plans on releasing three albums before end of year. 
Fans may see a follow up to "Clique" and "New God Flow" before they're ready. Winter is coming.