Child Opens Kinder Surprise Egg to Find a Bag of Crystal Meth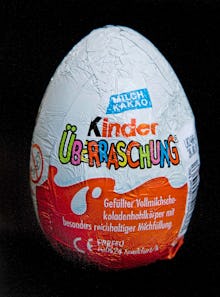 First the meth burritos, now this. 
As Mashable reported, a 5-year-old in Limavady, Northern Ireland, opened a Kinder egg Sunday to find the biggest surprise of all: a bag of methamphetamine where the toy should've been. Ignoring his childish impulses, one would guess, he did not put the baggie in his mouth, but handed the white powder over to his father who in turn handed it over to the police. 
"As a father of a child, I know how enticing Kinder eggs and their contents are to children," Limavady Democratic Unionist Party councillor Alan Robinson told the Belfast Telegraph, saying it was "by the grace of God" the boy and his 8-year-old brother, with whom he was playing when he found the drugs, gave the surprise to a responsible adult. 
According to a post on the Limavady police department's Facebook page, officers planned to dispose of the powder — confirmed to be crystal meth, possibly hidden in the Kinder egg for the purpose of smuggling it into prison — and asked that anyone with "information about the sale or misuse of illegal drugs" to come forward. 
"The possibility that something so potentially dangerous has been discarded where children could find it is deeply concerning," inspector Colin Shaw said in the post. 
In January 2016, it was reported that London police seized Kinder eggs full of cocaine during a raid on a London pub. It wasn't the first instance in which they'd confiscated the drug-stuffed candies, either. Apparently, it's fairly common, but never fear, concerned Americans: Kinder eggs are banned in the U.S. because they contain "non-nutritive objects" which occasionally turn out to be choking hazards. Or Schedule II drugs.
Read more: Drug Smugglers Tried to Sneak 2,493 Pounds of Weed Into the US in Giant Fake Carrots