Meet the 20-Year-Old Mastermind Behind Students For Trump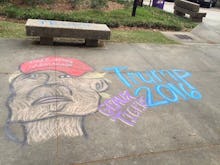 At first, Ryan Fournier was skeptical of this Donald Trump guy.
When the 2016 presidential season got going, Rand Paul was the big thing with college students said Fournier, a rising sophomore at North Carolina's Campbell University.
"When Donald Trump announced, I wasn't fully behind him," Fournier said in an interview. "I knew him from Celebrity Apprentice. I knew him from doing the Home Alone skit... I remembered him from TV, but I didn't know him [politically]."
Read more: Meet the Young People Who Stormed Iowa to Campaign for Republicans
That would soon change, and Fournier, 20, would become the national chairman of Students for Trump — an independent grassroots movement that's attracted tens of thousands of young followers who are snapping, tweeting and Facebooking their support for The Donald.
Who is this guy? Ryan Fournier was born in Long Branch, New Jersey. His conservative, middle class family — comprised of his single mom, a paralegal, and his grandmother, who worked as an assistant in a medical office — later moved to North Carolina, where he attended Corinth Holders High School.
When he's not trying to get Trump elected, Fournier likes swimming and late-night runs, dance music and football — he's a Giants fan. His favorite book is The Hunt for Red October, by Tom Clancy. Eventually, he hopes to practice corporate law and — surprise — seek public office himself.
What began as a passing childhood interest in politics grew into Fournier's decision to major in political science and pre-law in college, and a commitment to advancing Trump's presidential ambitions, at a time when most people his age lean toward the Democratic Party and embrace the "liberal" label.
Fournier, who said Trump's controversial stance on immigration and his business acumen clinched his decision to support him as nominee, recalls "there was a meeting that I had with my College Republicans group. ... One of the speakers had mentioned that young people getting involved is very important."
At first, he figured, "I could make social media for a local candidate, but then I thought, Why don't I go all out and why don't I do something for someone bigger? I thought to myself, Why don't I make something that's in support of Donald Trump?"
So he did.
"It all started with the Twitter page, Students for Trump. It grew so quick that we had to consolidate, we had to get more people on board," he said. "Never did I think it was going to be some large group of students working together, no."
At the time, he adds, "I knew nobody in the campaign."
Trumping the net: Fournier and others hit the web hard.
A fellow student, John Lambert, "has worked with me from the start of our main operations," Fournier said. "He came on as my national vice chairman and has been with me ever since."
In addition to the 25,000 or so Twitter followers of @TrumpStudents, there's a homepage. A Facebook page Fournier admits could be more active. A Snapchat account that allows supporters to sign up for takeovers to share their experiences. Periscope accounts. And, an Instagram feed that's approaching 40,000 followers.
The group now claims a presence in 40 states.
A promotional video on its site strikes a decidedly different tone than the candidate himself, who rails at "Crooked Hillary" and "Crazy Bernie" on Twitter and just Tuesday, held a fiery news conference at which he attacked reporters as dishonest and directly called one a "sleaze."
Fournier, too, strikes a decidedly more modulated tone than some of the Trump supporters seen berating and even brawling with protesters at the candidate's rallies.
"Over the years, I've definitely tried to reach out and understand the other side of the political experience," he said of his interest in civics, which began in high school. "I wanted to understand more about why Democrats think this way and Republicans think this way. Going off what you were raised on doesn't necessarily have to be what you [think]."
Overall, the Students for Trump multimedia movement is a mix of smiling faces, satire, shade and a little skin.
A sampling:
Playing defense: Fournier says his own campus is quite conservative, "We don't have a Black Lives Matter group; we don't have a very large College Democrats group either." But nonetheless, he's been targeted on Yik Yak, and elsewhere, for his unabashed Trump boosterism.
According to Fournier, Students for Trump members in Ohio and Washington state have also complained to him about being targeted.
"There were going to be and there probably still are a few people who would say things [or] call you out on it," he said. "I don't know if they would necessarily say you were racist."
As for the candidate himself, who's been assailed as a xenophobe, misogynist and general hatemonger, Fournier has an answer for every allegation: "[If people say] he's a race baiter — no, I don't think so at all. He simply stated his mind that illegal immigration needs to be stopped, we need to have better security in our borders [and] we need to have some better protocol in place."
What about his behavior toward women? Fournier allows that, sure, "he didn't have perfect marriages," but his daughters serve as character witnesses, and he's hired women as top executives in his company.
Next steps: Now that Trump is the presumptive Republican nominee, Students for Trump is evolving. Up next is a merger with the ground operation of the College Republicans.
Per a Students for Trump email, "We are excited to present a new opportunity to students looking to get involved and support Trump's candidacy on campus. Going forward, we will be looking for Campus Ambassadors to represent Students for Trump on every campus nationwide."
Students for Trump continues to operate independently of Team Trump, and it's not yet clear how much support, financial or otherwise, the Trump campaign will ultimately put into drawing young people to its cause. A campaign spokeswoman, Hope Hicks, didn't respond to a request for comment.
"Have they really done a good job of getting out there and getting students involved? I think they could do better," Fournier admitted.
Still, Fournier remains dedicated to a cause and a candidate who has mobilized many young Americans, and electrified droves of others to defeat him.
"The appeal Donald Trump has to younger people is unlike something I have seen in my short time on earth, even when I look at other political figures from the past, I can only name Ronald Reagan as something of similar sorts," he said in an email. "To me, Donald Trump is that positive change needed to our political system that young people can understand."