Why Are There So Many Racist Commercials?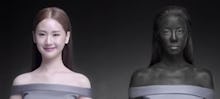 Can you spot what's off about this commercial?
For starters, it features a black man being shoved into a washing machine and coming out "clean" as a fair-skinned Chinese man. 
Qiaobi, the Chinese company behind it, issued an apology after receiving endless backlash — if you consider asking people to stop airing it and overreacting about it an apology. 
But Qiaobi is far from the only brand to ever produce a racist commercial. 
For example, this one advertises that "color is better."
Are we just hypersensitive? Or are some commercials blatantly racist?
Tough question.
Try answering that after watching this commercial in which Ashton Kutcher impersonates a Bollywood movie producer:
Last year, Chinese state media shrunk John Boyega on its Star Wars: the Force Awakens poster.
And this Thai commercial was pulled for ... obvious reasons.
We can do better. 
Watch Wednesday's full MicCheck episode below for the full experience: