4 Cam Performers Talk About the Difference Between Virtual Sex and Real Sex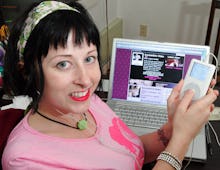 Whether it's a webcam performance or a kinky Skype chat, virtual sex isn't quite the same as physical contact. That said, digital romance is quickly becoming an integral part of our IRL sex lives. In a 2013 Pew Research Center survey, 24% of internet users said they had used online platforms to maintain a long-distance relationship. Meanwhile, according to the New York Times, millions of Americans are signing on to websites like LiveJasmin to interact with cam performers every month.
Mic caught up with several webcam performers in Miami at Cam Con, the nation's leading adult entertainment convention for purveyors of webcam shows, to find out what they really think about the difference between "real" sex and virtual sex. 
Here's what they had to say.
Diamond Monrow , a 22-year-old woman from Las Vegas, is a camgirl who regularly performs both solo and with partners. Yet she vastly prefers the former to the latter.  "When I am masturbating on cam, it's very different because you know yourself and your limits," Monrow said. "It's all about how you feel." 
Monrow has been camming for four years. She thinks her connection with cam fans goes beyond mere sexual attraction: It's intimate and emotional, even without the exchange of personal information. Many fans tell her about their lives and want to hear about how she's feeling in general.
"Web camming is basically like [being] a personal therapist... it's more exciting that you listen to them than just getting off...there's definitely an emotional aspect," Monrow said.  
Monrow also feels her work isn't only about satisfying the audience. She's learned about her body through masturbating on camera and exploring her own desires. "Camming helped me find myself," she said. "What I'm into, what I'm not into... being in control [of the show] is the best part."
Performers who are new to camming often immediately feel the sensual power of personality. Flex, a 32-year-old stripper turned cam model, said he has a master's degree in business development and walked away from a government job with the Charleston Chamber of Commerce in North Carolina because he prefers the entrepreneurial opportunities in erotic online broadcasting. 
"It doesn't matter to me what anyone else thinks," he said. "I have a great life. It's all about freedom." 
Most of Flex's clients are women, but it takes him a while to show them the goods. "Be as sensual as you can. I find that slow movements draw people in," he said. 
Flex has only been camming for one month, yet he's already learned that virtual sex is all about psychological foreplay. "It's all about personality when you're camming," he said. "Just have your mannerisms engaged and keep it natural. I might even burp on camera and say 'That was a good sandwich.'" 
In addition to his performance work, Flex is also developing a marketing business on the side for fellow strippers and webcam performers, which he plans to launch in the fall. "In this business, you need to learn how to invest your money," he said. "You're not going to look good forever." 
Virtual sex is all about the art of verbal communication. Victoria Banxxx, 33-year-old webcam performer, said several of her fans ask for the online 'girlfriend experience,' in which conversation is the main event and sex acts are merely the cherry on top. Just like Monrow, she said her job is a lot like being a therapist. 
"He [the fan] wants to talk about his day and talk about yours. I wear a bikini and pretend I'm his girlfriend who just got in from the pool," Banxxx said. "Some people just want to hang out. They're not there [in the chatroom] just to get off." 
As a cam performer, Banxxx feels more inclined to role play and talk dirty online than she would in person. "Talk. Talk. Talk. For some reason when I'm on cam I talk a lot," she said. "it just comes right out... the more you do it the more comfortable it gets."
Conversation is also a crucial element of virtual foreplay for 55-year-old Carmen, a cam performer who lives in Seattle. She's been camming for almost seven years, a second career she picked up to pay her daughter's way through law school. When she started, she had no previous experience in sex work of any kind. Even today, Carmen said only her husband of 20 years knows about her profession.  
Unlike traditional porn, cam girls have control over what they reveal online. They can block local IP addresses from being able to view their pages and choose to broadcast exclusively to paying subscribers. Carmen hides her career from her family and friends by making her content unsearchable on the web. "I don't tell anyone I'm in the industry because it's still so taboo," she said. "I wish I could tell people. I'm proud."
Carmen said she's shy in person but that online she's more inclined to role play and talk dirty. Virtual sex can often be a better venue for low-risk experimentation than real sex, where the in-person dynamic increases the pressure. "It's a good place to try something new," Carmen said. "Even just a new look. You can get dressed up and try something for 10 minutes. If you don't like it you can stop and come back online later." 
In short, these virtual sex experts all agree the biggest difference between real sex and online is predominantly relying on verbal communication to set the mood. The buildup is less about physical stimulation and more about forming an emotional connection.