Sons of an Illustrious Father Defy Gender Binaries in New Video "The Opposite of Love"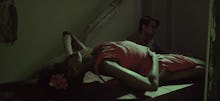 Music has been at the forefront of the fight against anti-LGBT legislation taking hold in states like North Carolina and Mississippi. Blockbuster legacy acts have boycotted concerts and a trans punk icon burned her birth certificate onstage, all in the name of creating a more equal and accepting environment for every citizen — music fan or not — to enjoy and celebrate life.
None of it has surprised Lilah Larson, songwriter, singer and multi-instrumentalist for the self-described "future folk" band Sons of an Illustrious Father, but she's been captivated watching it all unfold. "It's beautiful when musicians step up in any way," Larson said during a phone conversation Tuesday. "All artists should always be creating beautiful radical acts."
Read more: Against Me!'s Laura Jane Grace Burns Birth Certificate Onstage in North Carolina Show
Consider their latest music video for "The Opposite of Love," premiering on Mic, an example of the band living that mantra. The song is one of the band's more straightforward; it illustrates a heartbreak in lyrical form. But paired with striking visuals directed by Anisia Uzeyman, featuring cameos by musician, poet and activist Saul Williams and actor Ezra Miller (Trainwreck and The Perks of Being a Wallflower), who writes and sings in the band — it becomes a gender bending, identity challenging aesthetic stand against discrimination.
The entire video was captured in a single shot that Uzeyman engineered with mirror tricks. She came up with the video treatment, drawing inspiration from found footage of early 20th century blues dancers.
"There is no opposite of love," Uzeyman said about how she approached the song and concept. "For me, the title is already very positive. To me, it makes me see beyond all the bullshit we're talking about differences. There is not so much difference, between genders, communities; they're just political constructions. 
"Otherwise people are the same. They love, they suffer, they dance, they eat, they try. They're always trying. It's common to every human being, and it's beautiful, and I wanted to show that."
Larson hopes the video will provide "catharsis for people experiencing continuing heartbreak," leaving that description open for anyone to identify with. 
"Some of my favorite things about the video are how queer it is, how black it is and how much it demonstrates the ability of artistic communities to bridge supposed gaps in identity," she said. "The opening shot is a beautiful transwoman friend of ours. There's a scene of two famous cis men basically fucking. Then there's a vogue dancer. It's pretty fringe-y, and I love that."
Watch the full video below.