Photos of Amber Heard's Alleged Abuse From Johnny Depp Reveals How Violent Her Marriage Is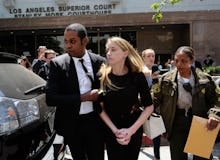 New photos obtained by People show Amber Heard's physical state following an alleged assault from her estranged husband Johnny Depp. The photos, which show Heard with a cut lip, black eye and several bruise marks on her face, add yet another layer to the couple's divorce that will surely be scrutinized at length by international media outlets.
Their breakup after a 15-month marriage follows a series of incidents in which Heard alleges Depp physically assaulted her, writing, "I endured excessive emotional, verbal and physical abuse from Johnny, which has included angry, hostile, humiliating and threatening assaults to me whenever I questioned his authority or disagreed with him," in her May 27 request to the Los Angeles Superior Court. 
"As Johnny's paranoia, delusions and aggression increased throughout our relationship so has my awareness of his continued substance abuse," she continued. "Because of this, I am extremely afraid of Johnny and for my safety."
There are at least four reported accusations of violent behavior portrayed by Depp: At one point, Heard recalls in her court request Depp grabbed her by her hair and threw her to the floor after arriving late to her 30th birthday. Another report notes Depp stalled production on Pirates and the Caribbean: Dead Men Tell No Tales when he punched his arm through a wall after fighting with Heard. 
But Depp says otherwise, and is backed by a statement from the police that said a "crime was not committed" on May 21, when Heard says he drunkenly threw a phone at her face while also high. Speaking through a cracked door, Heard told officers responding to the domestic disturbance simply said she and her husband were having an argument. After analyzing her for abuse and giving her card, police left the scene without ever speaking to Depp. 
Now, the conversation online is pivoting into a polarized debate. While some discuss the lack of compassion society sees in victims of sexual and physical abuse, others are crying foul and saying Heard is simply labeling herself as a victim for profit. Even Depp's attorney, Laura Wasser, had this to say: "The Danish Girl star, who filed for divorce from Depp on May 23 after 15 months of marriage, is "attempting to secure a premature financial resolution by alleging abuse."
Read more: Here's What We're Missing When We Support Johnny Depp Without Listening to Amber Heard