33 Harrowing Photos Show What Happened When a Gunman Opened Fire at UCLA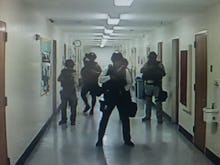 After a gunman opened fire on the campus of the University of California, Los Angeles on Wednesday morning, killing one person before taking his own life, swarms of police and federal agents stormed the campus to find and stop a suspected active shooter.
The following hours were tense as the school went into total lockdown, with authorities searching buildings for potential gunmen and cutting off all outside access to the university.
Some on campus posted photos of makeshift barricades to Twitter as they complied with a university order to shelter in place and deny entry to all others.
Photos from the scene showed the dark mood as heavily armed Los Angeles Police Department and FBI tactical and hostage rescue teams arrived, locking down and sweeping large sections of the campus.
In a series of photos of security footage taken by Twitter user Kara Leung, the officers could be seen searching campus buildings, moving door-to-door with rifles and shotguns.
Eventually, officers with guns drawn began evacuating students, faculty and visitors from campus. Authorities told evacuees to hold their hands above their heads so they could be checked for firearms upon exiting.
Eventually, authorities concluded the killings were a murder-suicide, and there was no continuing threat to other members of the campus community. Relieved-looking officers pulled out from their search of campus buildings as the evacuation continued; the lockdown was lifted at around 3:20 p.m. EST, according to the Los Angeles Times.