Taylor Swift and Calvin Harris Broke Up, Now Twitter Thinks It's Getting a New Swift Album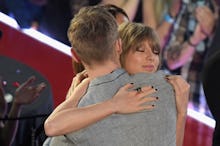 A pop-cultural era has ended, according to People magazine: Two of the pop chart's biggest stars — Taylor Swift and Calvin Harris — have reportedly broken up.
As one should expect at times like these, the Twitter immediately exploded in a flurry of broken hearts, tears and thirst for both of the newly single parties. But some people on Twitter immediately saw the bright side of the situation: Taylor Swift can now go back to doing what which she does best — dragging her new ex across a series of catchy choruses.
Fans haven't heard new music out of Taylor Swift since her record-breaking album 1989 dropped in October 2014. She described that album as a move away from writing primarily about her breakups, which she'd used as inspiration several times in the past. 
Swift rarely confirms who those songs are about. But when she comes out with her next broken-hearted ballad, fans will surely come out in full force with their Harris theories.