Final 'Harry Potter and the Cursed Child' Photos Show Draco Malfoy and His Son, Scorpius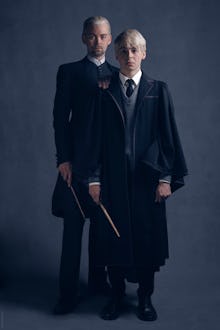 Should we even be surprised that Draco Malfoy still looks irritated, nearly two decades later? After unveiling the new looks for the Potter and Granger-Weasley families, Pottermore shared a glimpse into the life of the Malfoys for the upcoming West End play Harry Potter and the Cursed Child.
Sure enough, time doesn't seem to have slowed down Draco's sternness, based on actor Alex Price's expressions. However, now Draco has a ponytail to boot, and the long hair draws obvious parallels to the look of his father, Lucius Malfoy. 
We've also got our first look at Draco's son, Scorpius, played by Anthony Boyle. He appears more fidgety and nervous, but Boyle told Pottermore that's in part due to Scorpius' wealthy upbringing. "He's wearing the official Hogwarts uniform before you go and get sorted into your house," Boyle said. "He's a Malfoy so his clothes should be really expensive, but quite constraining to make him feel a bit awkward."
Meanwhile, author J.K. Rowling teased that Scorpius might be quite a catch at Hogwarts. "I've got a feeling Scorpius is going to do nothing to turn girls off the Malfoy men," she told Pottermore.
The Cursed Child, which will have its first public preview in London on Tuesday takes place 19 years after the events of Rowling's final novel, Harry Potter and the Deathly Hallows. The children of the main characters from the original Harry Potter series — Albus Potter, Rose Granger-Weasley, and now, Scorpius Malfoy — are set to begin their first years at Hogwarts, much to the delight of the passionate wizarding fanbase. 
Doubtless you'll be more excited to see it than Scorpius looks posing in this photo. 
Read more: 'Harry Potter and the Cursed Child' Unveils First Look at Black Hermione, Sorry Haters