What We Know About William Klug, UCLA Engineering Professor Allegedly Killed Over Grades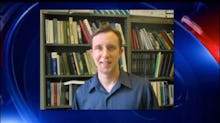 Following Wednesday's murder-suicide at the University of California, Los Angeles, details emerged about William Klug, the engineering professor who was allegedly gunned down by a vengeful student over grades.  
Klug, 39, had been an associate professor of mechanical and aerospace engineering with a focus in the intersection of biology and mechanics. He was also married and the father of two young children, the Los Angeles Times reported. 
According to his official webpage, which was still live on the university server Thursday morning, Klug received his bachelor's degree in 1998 from Westmont College, a master's degree in 1999 from UCLA and a doctorate's in 2003 from the California Institute of Technology.
Klug is remembered as a kind and dedicated teacher with a passion for his profession. "I am absolutely devastated," Alan Garfinkel, a professor of integrative biology and physiology and a colleague of Klug's, told the Los Angeles Times. "You cannot ask for a nicer, gentler, sweeter and more supportive guy than William Klug."
Klug had also been a regular surfer and fan of the Los Angeles Dodgers, routinely taking his family to games, the Times reported.
Classes are expected to resume Thursday but the engineering classes will not be held this week, according to the Times. Additionally, UCLA's "final exams and commencement will proceed as scheduled next week," the Times reported.
Read more: 2 Dead at UCLA After Gunman Opens Fire on Campus