These Stunning Photographs Showcase the Beauty and Diversity of Redheads Around the World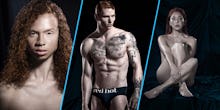 Reheads are a rare breed. Accounting for about 1-2% of the world's population, they're often stereotyped as just being pale, freckled, easily sunburned and lacking eyebrows. 
But photographer Thomas Knights, who's a redhead himself, knows better. With his previous photo project, Red Hot, he aimed to celebrate hunky redheaded men, and now, in collaboration with British designer Elliott J. Frieze,  Red Hot II aims to celebrate not only redhead beauty and uniqueness, but also diversity.
Read more: Stunning Photos Challenge Society's Stereotypes of Male Redheads
"I felt that there was a real bias against redheads in particular, that they had very little representation across the film, fashion and media industries," Knights said in an email. "So it would have been a shame for Red Hot to end; and after a period of 3 years I felt that I was unable to do it alone. There was so much that I wanted to add to the project." 
He ended up meeting Frieze and the two set out to photograph as many redheads as they could for both an exhibition and a coffee table book. Currently seeking funds for the project on Kickstarter, Knights' ultimate vision is not only celebrating the beauty of redheads' often pale skin, but freckles as well, in addition to spotlighting black and mixed race individuals that also have red hair. 
In total, Knights has photographed more than 100 people for the book, with roughly 5% of those people being black or mixed race, like Natasha and George, seen below: 
In addition to photographing models, Knights has also launched a hashtag campaign to help bring in people to photograph for Red Hot II's exhibition in Rotterdam in September. On social media, he's encouraging redheaded people to take pictures of themselves and use the hashtag #IAMREDHOT2 with the link to the Red Hot II Kickstarter page for a chance to be photographed by him in London. 
Since part of this project is an effort to help eliminate the stereotyping (and thusly, bullying) of redheads, Knights has partnered up with the Diana Award, which is an anti-bullying initiative that was launched in Princess Diana's honor. Already, the first Red Hot book raised more than £10,000 (or $14,000) for the charity, so Red Hot II could actually do some good, in addition to letting you gaze upon the beauty of a bunch of good-looking redheads. 
As far as what Knights wants people to think after flipping through his book, or even attending his exhibition: "That life is beautiful." 
And after seeing these pictures, it certainly is.