Brie Larson Is Reportedly Eyed For Marvel's First Female Superhero Movie, 'Captain Marvel'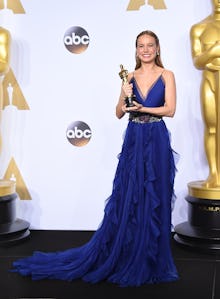 Fresh off a tremendous performance in Room, which won her an Oscar for best actress, Brie Larson is probably feeling like a superhero. So it's quite fitting that she's being eyed for such a role, too. According to Variety, Larson is currently in "early talks" to play one of Marvel's most iconic female superheroes, Captain Marvel, whose movie of the same name is slated for a March 2019 release. 
Capturing an actress for Captain Marvel — and an Oscar-winning one at that — would be huge for Marvel's ever-growing Cinematic Universe. Though Marvel's films have achieved great financial and mostly positive, critical responses, the franchise has yet to feature a film with a female lead. While Marvel Studios president Kevin Feige has insisted that he thinks a Black Widow (Scarlett Johansson) solo film would be a good idea, the sentiment has not translated into development. Moreover, the Wasp (Evangeline Lilly) will co-star in an Ant-Man sequel, but giving the character her own film would still depend on the success of the joint effort. 
Contrast this with DC Comics' movie ventures, and they already have a Wonder Woman (Gal Gadot) and Harley Quinn-led (Margot Robbie) solo film on deck. Thankfully, Captain Marvel is a good place to start. The superhero was originally a spin-off character named Carol Danvers in Marvel's comics featuring Captain Mar-Vell, a male alien, but the character died in the 80s from cancer. 
Since then, Danvers has assumed the mantra of Captain Marvel, with her superpowers the result of fusing her DNA with genes from an alien race called the Kree. The powers are Superman-esque, with the ability to fly, superhuman strength and shooting energy blasts. 
While Marvel has yet to comment on the Larson casting reports, the Twitterverse has been positive about Larson's potential in the role. 
Read more: 6 Female Superheroes Who Deserve Movies Before We Get Another 'Superman' Movie