This Ad Was Banned for Featuring "Sexualized Images and Text" — After Only One Complaint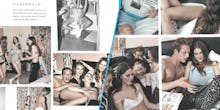 A new ad from British clothing brand Jack Wills has been yanked by advertising watchdogs that claim the ad includes "sexualized images and text." 
The brand is known to many as the British alternative to Abercrombie and Fitch. "It sells a boating blazer so obnoxious that it must exist only to help identify people who want to be punched," according to the Guardian. "Jack Wills isn't sexy." 
Opinions on the quality of the clothing aside, the two brands have one distinct difference: While A&F caters to teens, Jack Wills, according to a press release from the brand, is "targeted at 18- to 24-year-old university students and not at younger teenagers."
Related: This Clothing Ad Was Banned for Sexualizing "Vulnerable" Children
Thus the advertisement in question, which arrived to Jack Wills 3 million-plus subscribers in a sealed, opaque envelope, was not intended for the eyes teens or children.
In the ad, male and female models are shown in their underwear drinking, dancing, dancing and on a bed together — relatively tame when comparing it to ads from Calvin Klein or American Apparel. 
The "sexualized" text read: "Pure and comfortable cottons, or flirty delicate laces; whatever your choice, you can be sure it's what's underneath that counts ..."
Another page promoting the brand's loungewear was even tamer, with a group of young adults seen goofing off in bed together, with more flesh covered than not. The more daring sight? One model's bra strap, which lied below her shudder. The horror!
The text on this read "A [favorite] tee and your boxers, or a lounge short and bra; this is loungewear made for the morning after the night before."
The ad received but one complaint to the Advertising Standards Authority — yes, one out of 3 million — and yet this was enough to have the ad yanked.
"The images showed a group of friends enjoying a weekend away, relaxing with each other and enjoying a pajamas party," Jack Wills said in a press release. "The images were not sexualized, provocative and did not imply sexual activity in any way. None of the images featured any nudity and that none of the garments worn by the models was transparent."
According to Jack Wills, even if the claims were seen as a double entendre, the company did not see how it could be seen as overly sexual or encouraging underage sexual activity.
Nonetheless, the ban was upheld by the ASA, which said it breached their responsible advertising code. It's not the first time the ASA has clamped down on controversy. As previously reported by Mic, in the past they've banned Beyoncé perfume ads for being sexually suggestive, cell phone ads for objectifying women and most recently they banned an ad sexualizing a "vulnerable" child (the "child" in question was a 21-year-old model). 
If the latest much ado about nothing proves anything, it's that the ASA might need to refine its strategy on what it deems inappropriate.