Texas High School Senior Barred From Graduation for Dress Code Violation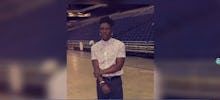 David Byrant-McKinnies didn't get the same high school graduation experience as his peers. 
The senior at Wagner High School in San Antonio was not allowed to walk down the aisle of his graduation ceremony with his classmates because of a dress code violation. 
Bryant-McKinnies' crime was wearing shorts and a buttoned-up shirt, both of which violated the school's stated graduation attire. 
"A lot of people don't get to accomplish this goal," Bryant-McKinnies told local TV station KENS, saying the school had deliberately tried to delegitimate his accomplishment. "I didn't get no type of recognition. They crossed my name out like I was dead." 
"His reaction was, 'I'm a trend setter,'" Steve Linscomb, a spokesman for San Antonio's Judson Independent School District told the news station. "Well, be that as it may, but you can't walk across the stage unless you have some pants on. This was laid out numerous times."
According to local media, Bryant-McKinnies' mother actually did have a pair of pants on hand, but the teenager was reportedly still denied his special moment. 
"That really tore a part of my family, and my mom's heart," Bryant-McKinnies said. "She didn't get to see me graduate." 
Read more: I Went Under the Sheets of New York's Professional Cuddling Industry — Here's What I Found