Chewbacca Mom Candace Payne Receives Scholarship to Southeastern University, of Course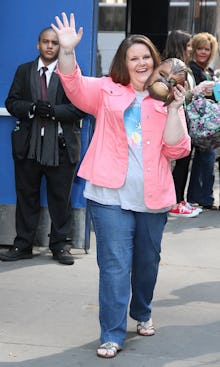 We all knew Chewbacca mom was going places the moment she hopped in her car, threw on a Star Wars face mask and moved millions of viewers watching her record-shattering Facebook Live video — the most viewed on the platform to date — to tears of joy.
And so, like many viral superstars who came and conquered before her, the face behind the mask, Candace Payne, has received a full scholarship to an accredited school for the feat. 
Southeastern University in Lakeland, Florida, is also extending the full scholarship invitation to the school to her entire family, just in case any of them would like to take up classes at the private college. They don't even have to wear the masks.
Scholarships in the wake of an internet phenomena are nothing new: there was "clock boy," Damn Daniel, a homeless piano player, the 9-year-old student snapped doing his homework outside of McDonald's and basically every other child who appears on The Ellen DeGeneres Show.
Not everyone, however, was as on board with the school, which costs over $20,000 a year to attend, providing scholarships to an entire family simply for being relatives to the subject of sudden momentary fame, especially when student loan debt is crushing regular Americans trying to go to school.
"I have student loan debt," August Schmidt, a student at the university, told WTVT. "I have two jobs, a family and a kid. But honestly, it's a gift to them they should take."
"Over 90% of our students receive institutional aid," Brian Carroll, Southeastern's executive vice president, told WTVT. "We've had the privilege to increase that aid from $6 million to $25 million this year. If we can help her in any way, we want to do that."
Read more: James Corden Made the Chewbacca Mom's Dreams Come True With a Surprise From JJ Abrams