Three and a Half Weeks Later, Here's What Happened to the US Penis Transplant Recipient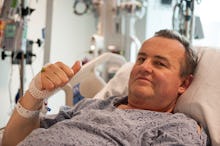 Three and a half weeks ago, Thomas Manning received the country's first penis transplant. Now, the 64-year-old has left the hospital, the New York Times reported — and his recovery is going well.
"Everything seems to be healing," Manning said, according to the Times. "Everything's fine. It's going to get better, too."
Blood is flowing well to the transplanted penis, Manning's doctors said, and his body is showing no signs of rejection — a risk with any organ transplantation procedure. 
Manning injured his penis back in 2012 when equipment fell on him at work, according to an earlier Times report. While treating his injury, doctors discovered he also had life-threatening penile cancer. As a result, Manning had to have most of his penis removed. Left with a small stump, he had to sit down to pee, and couldn't have intimate relationships with women.
Surgeons had three goals for Manning's penis transplant, according to a fact sheet from Massachusetts General Hospital: achieve a natural-looking penis; restore Manning's urinary function; and restore his sexual function.
So far, they've accomplished the first two. Dr. Dicken Ko, one of Manning's surgeons, said the patient is peeing just like he used to.
"He's standing up and he's aiming, just like the good old days," Ko said, according to the Times.
As for sex, it may take time. Manning's sexual function could take longer to come back, as he'll have to wait for his nerves to regenerate, the Times reported. But doctors are "hopeful" his sexual function — as well as his sensation — will eventually return.
Nerves grow at a rate of 1 millimeter per day, according to Johns Hopkins Hospital, where a penis transplantation program is also in the works. 
"We anticipate that achieving function, including urinary and sexual functioning, could take between six to 12 months," Johns Hopkins' website says.
Next steps: Massachusetts General Hospital plans to perform more penis transplants in the future — specifically on "veterans who sustained pelvic injuries in combat, as well as cancer patients and accident victims," according to the Times.
If all goes according to plan, Manning's procedure will be the first of many.