This Teen Just Flawlessly Recreated One of Kylie Jenner's Dresses for Prom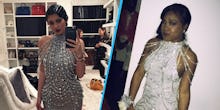 Everyone wants a little piece of Kylie, whether that be her lip kits, her Puma shoes, even her wigs. When she's out and about in Calabasas, she causes headlines with just the flick of her hips in a pair of leggings and on the red carpet, she shines in revealing, curve-hugging, Balmain-designed gowns. 
So when 18-year-old Dailyn Crumble, who goes to high school in Inglewood, California, was thinking about what she should wear to prom, she decided she wanted to go as none other than Kylie.
The dress Crumble ended up recreating is one that Jenner wore to her mother's 60th birthday party, which was Great Gatsby-themed. Jenner paired the look with dark lipstick and a black, finger-wave bob. 
To get the look, Crumble enlisted the help of dressmaker Newman Howell, and the rest is prom history. 
"The rhinestone chains were cut out piece by piece and hand sewn to the dress," Crumble told Seventeen. "My intention was to recreate [Kylie's] dress. I thought her dress was great. I'm also a fan of Kylie [and] her style is amazing." 
Read more: High School Student Slays in a Beyoncé Met Gala-Inspired Prom Dress
Crumble even went so far as to replicate Jenner's beauty look that night, wearing dark purple lipstick with loose waves. On Instagram, she posed with her date just like Jenner did that night with her sister, Kourtney. 
Crumble's creation comes just weeks after a high schooler in St. Louis recreated Beyoncé's 2015 Met Gala dress for her prom. So clearly, these girls are onto something. 
Judging by the hundreds of comments on Crumble's Instagram and even some attention from publications like Teen Vogue, it's clear that she did prom exactly how she wanted to. 
"At this point I can honestly say that I killed prom," Crumble wrote on her latest Instagram. And who can really disagree with that?