Teacher's Heartbreaking Response to Colorado Student's Attempted Suicide Is Going Viral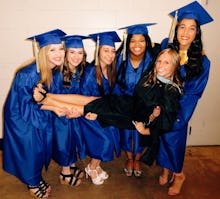 A teacher's heartbreaking Facebook post about one of her student's attempted suicide is going viral — attracting more than 185,000 shares and spurring nearly a quarter-million reactions. 
Brittni Darras, an English teacher at Rampart High School in Colorado Springs, Colorado, learned of her student's suicide attempt during a parent-teacher conference, when her mother was explaining her daughter's prolonged absence. The student's life was saved after someone anonymously reported a suspected suicide via the app Safe2Tell; suspicion was aroused after the student in question wrote farewell letters and deleted her social media presence. 
Darras, after getting approval from the student's mother, write the student student a loving and encouraging letter.
"Her mom said that her daughter cried, turned to her mom and said, 'How could somebody say such nice things about me?" Darras wrote in her post. "'I didn't think anybody would miss me if I was gone.'"
"It made me realize that I was way too close to losing another student to suicide. I spent the next two months writing cards to every one of my students — over 100 of them — telling each one what is special and unique about them," she added.
This meant taking the time out of her busy teacher's schedule to write cards to all 130 of her students.
Through this initiative, Darras hopes to raise awareness about suicide and how it has become endemic amongst young people. 
According to the Centers for Disease Control and Prevention, suicide is the second leading cause of death for people between the ages of 10 and 34 in the United States. 
"We've known intuitively that loneliness hastens death ... Psychobiologists can now show that loneliness sends misleading hormonal signals, rejiggers the molecules on genes that govern behavior and wrenches a slew of other systems out of whack," the New Republic wrote. "They have proved that long-lasting loneliness not only makes you sick; it can kill you. Emotional isolation is ranked as high a risk factor for mortality as smoking."
Given the insidious affects of loneliness on mental and physical health, Darras' outreach to every one of her students could well play a role in mitigating the kind of isolation which can buttress thoughts of suicide. 
Her actions set a powerful example for mentors of young people everywhere — be they teachers, parents or friends.