The UCLA Shooter Was Major News — But What About the 62 People Recently Shot in Chicago?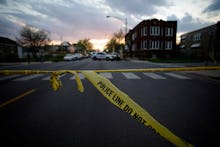 On Wednesday, gunfire at an engineering building at the University of California, Los Angeles, led to a university-wide lockdown as swarms of law enforcement descended on the campus.
The shooting, believed to be a murder-suicide, has become another example used in the nation-wide conversation on gun violence and overtook media and social media for hours on Wednesday. But what about the recent series of shootings that failed to reach such national attention in Chicago?
At least 62 people in Chicago were shot during Memorial Day weekend, a surge over a short span of time that Mayor Rahm Emanuel called "unacceptable," according to NBC News. Six of those victims died. 
One 18-year-old victim was standing on his porch when he was shot in a drive-by. On Saturday afternoon, two victims walking down the street were shot in a violent robbery. Another 26-year-old victim was driving when she was shot. Many of those involved in the weekend's shootings were gang members, according to NBC. 
Police officials have attributed the growing epidemic of gun violence in Chicago to the pressure children face to join gangs, poor gun laws in bordering states and a "broken and overwhelmed" judicial system, police Superintendent Eddie Johnson said, according to the Chicago Tribune. 
The holiday weekend's events are just one reflection of rising gun violence the city is struggling to get under control. Last month was the city's deadliest May since 1995, with a death toll reaching 66 and nearly 400 people wounded by guns.
About halfway through 2016, more than 1,500 people have been shot so far in Chicago, according to the Tribune. This time last year, 957 people had been shot, according to the Chicago Tribune. 
Read more: Shocking Report: Chicago Police Department Is Really, Really Racist