Rihanna Releases Two Dance Remix EPs for "Needed Me" and "Kiss It Better"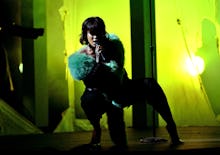 The most frequently heard complaint about Rihanna's long-awaited Anti is that it didn't have any club hits. Nothing came close to the electricity of "Where Have You Been" or "Diamonds," its songs took a more experimental direction. But it seems the Barbadian queen is not going to leave the dance floor wanting this summer.
Read more: Rihanna's 'Anti' Defies Every Expectation of What a Rihanna Album Should Be
Wednesday, Rihanna has dropped two dance remix EPs — one for "Needed Me" and one for "Kiss It Better." Each contain four tracks, produced by some of the most sought-after producers in music today, including Kaytranada, Four Tet, R3hab and Salva.
Listen to both below and consider yourself ready for block party season.
"Kiss It Better"
"Needed Me"