Here's What Happens if Bernie Sanders Beats Hillary Clinton in California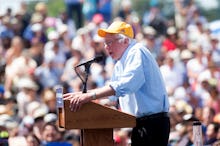 Polls in California are tightening as the Democratic primary careens toward the finish line.
Former Secretary of State Hillary Clinton leads Sen. Bernie Sanders by a slim two-point margin in two separate polls released Wednesday — the narrowest margins the two Democratic hopefuls have seen in the Golden State.
Read more: Democratic Establishment Tells Bernie Sanders to Pack It In
So what would a Sanders win in California mean for the Democratic primary?
"A Sanders win would not change the Democratic math. Clinton has won her party's nomination," Stu Rothenberg, a nonpartisan political analyst, said in an interview. "But a Sanders victory would ignite a round of stories and chatter about her weakness and the Democratic Party's divide."
Math not on Sanders' side: No matter the result of California's primary, Clinton will clinch her party's nomination Tuesday, when California, Montana, New Jersey, New Mexico and North Dakota head to the polls.
In fact, Clinton will likely clinch the nomination when polls close in New Jersey — one of the largest states, with 142 delegates, and where she holds a double-digit lead over Sanders.
Clinton will reach the magic 2,383 number thanks to a lead in pledged delegates — or delegates allocated based on primary results — and super delegates, comprised of Democratic officials and insiders.
And that's not rare.
President Barack Obama was declared the winner of the nomination in 2008 after superdelegates pushed him over the cliff. Same with Walter Mondale in 1984, and Michael Dukakis in 1988.
Hell or high water: Still, Sanders has vowed to continue his campaign all the way until the Democratic National Convention in July, saying he hopes to switch superdelegates to his side.
"She has received obviously a whole lot of superdelegate support, no question about that," Sanders said in remarks to reporters this week. "A lot more than I have. But superdelegates don't vote until they're on the floor of the Democratic convention That's when they vote."
And he hopes a potential California win would help him convince enough superdelegates to hand him the nomination.
But that too is likely to be a fruitless endeavor, as he'll be behind in both pledged delegates and the popular vote.
"If he wins [California], it doesn't make him the nominee, he's not ever going to be the nominee," Mary Anne Marsh, a Massachusetts-based Democratic strategist, said in an interview. "But he will use it to rationalize his hell-bent intent on staying in this race through the convention. And given how he's been campaigning of late, it becomes much more clear every day that this race is more about Bernie than it is about the Democrats winning the White House or anything else."