Amber Heard Allegedly Texted Johnny Depp's Assistant in 2014 About Continual Abuse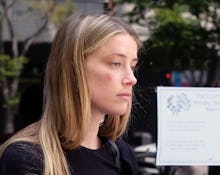 Johnny Depp has, so far, denied allegations made by Amber Heard that he abused her throughout their short marriage. The 30-year-old actress appeared in court Friday with a black eye, testifying that Depp hit her with a phone in the course of a violent argument. Now, texts reportedly exchanged between Heard and Depp's assistant, Stephen Deuters, suggest that the blowout that prompted the actress to file for divorce and a restraining order was part of a pattern of abuse going back to 2014. 
According to Entertainment Tonight, which published what appeared to be leaked screenshots of the messages, Deuters texted Heard the morning after an argument saying that Depp wanted to "get better now." Deuters said he felt like "we're at a critical juncture," but Heard was unsure whether she could take it anymore.
"Yes but I don't know how to be around him after what he did to me yesterday," she reportedly responded. "I don't know if I can stay with him." Here's the exchange as published by Entertainment Tonight:
"Obviously he has no idea what he did or the extent that he did it," Heard said, after Deuters told her how upset Depp was and how badly he wanted to see her. "If someone was truly honest with him about how bad it really was, he'd be appalled."
In Heard's reply, she acknowledged that Depp had "done this many times before."
"I always stay," she wrote. "Always believe he's going to get better ... And then every 3 or so month [sic], I'm in the exact same position."
Depp and Heard married in February 2015 but, if these messages are real, Depp's domestic abuse would seem to predate the wedding and to have persisted after it. When she gave her statement on May 27, Heard referenced "one severe incident in December 2015 when [she] truly feared for her life." 
Some of Depp's fans, as well as his attorney, have alleged that Heard is simply after the 52-year-old star's money. And while a number of people who know him well have claimed he's incapable of the abuse Heard has claimed, Depp does have a history of disorderly, even violent conduct when intoxicated, which these texts suggest he was. According to ET, none of the involved parties have confirmed the legitimacy of the conversation. 
Read more: Here's What We're Missing When We Support Johnny Depp Without Listening to Amber Heard