Thousands of People Pushing for Starbucks to End Leases In Trump-Owned Properties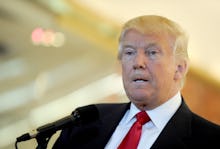 Thousands of people are asking coffee giant Starbucks to hashtag dump Trump in a new online petition. 
Signed by more than 7,200 people at the time this article was published, the petition is calling for the coffee giant to end its leases at all properties owned by presumptive Republican presidential nominee Donald Trump, The Hill reported. The chain currently has locations within a few Trump properties including Trump Tower in New York City and the Trump Taj Mahal hotel in Atlantic City.
Kyle Brooks, the creator of the petition, pointed out how Starbucks' company values don't quite align with Trump's. He wrote on the petition:
"Starbucks is a bold company that values belonging, inclusion and diversity. They have continuously stood beside the LGBT community, African-Americans and other minority communities."
Starbucks' values do fall into the categories Brooks described. Last year, for example, the coffee chain even went so far as to launch a major (albeit somewhat failed) nationwide anti-racism campaign. 
Trump, on the other hand, has arguably built his campaign on the foundation of controversial and offensive comments. 
"Unfortunately, Starbucks still has a business partner with a man who has called Mexicans rapists, stereotyped the Muslim community as terrorists and disgraces women," Brooks wrote. One petition signee added that she refuses to shop at Starbucks until the company terminates its leases with Trump.    
Beyond the petition, Starbucks has had good reason to pull out of Trump-owned buildings. Last December, the presumptive Republican presidential nominee urged his supporters to boycott Starbucks over its red holiday cups. 
The "controversial" cups were free of Christmas symbols — a move that upset many who felt the design was disruptive to the spirit of Christmas. "Mr. Trump even implied that he would terminate their leases," Brooks wrote. "Publicly shaming one of your business partners is downright disrespectful."
If the coffee chain does decide to jump from the Trump ship, it wouldn't be the first. Two celebrity chefs — José Andrés and Geoffrey Zakarian — pulled out of their contracts with the Trump empire (the Trumpire, if you will) after the controversial politician spouted offensive remarks about immigrants. 
Mic has reached out to Starbucks for comment and will update this story as appropriate.