Anonymous Wants You to Harass the Mother From the Gorilla Incident in Cincinnati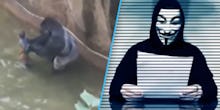 No media cycle is complete until Anonymous shows up a few days later with a declaration of war.
A group calling itself Anonymous Ohio posted a video to its Facebook page demanding justice for Harambe, a dead gorilla who's causing national outrage over endangered species and potentially negligent parenting.
The video spends some time going over the details of what happened when a boy fell into a pen at the Cincinnati Zoo and Botanical Garden on Saturday. When Harambe the gorilla started to drag the boy, zoo officials determined the child's life was in danger, and shot the gorilla. Anonymous states the boy's mother, Michelle Gregg, is an unfit parent and wants an investigation launched into her home life.
"We also believe Michelle Gregg should be charged in the direct relation to the death of an endangered animal in accordance to the Endangered Species Act," the person in the video says.
The video then gives the name of the business where Gregg works along with the phone number for her job — in case someone wanted to harass her — calling on "every able-bodied person with a computer" to assist in the operation Anonymous Ohio is calling #OpHarambe.
To Anonymous' credit, the video mentions that Gregg is receiving racist threats and comments, and says that those who make racist comments online "will also be held accountable," though providing personal employment information and phone numbers is certainly an effective way to enable racists to take action.
Twitter, meanwhile, isn't impressed:
Given Anonymous' recent history, the two most likely options for what happens next is that it takes down the zoo's website for a day or two, or it does absolutely nothing.