A Woman Was Arrested at a New Zealand Airport for Her Student Loan Debt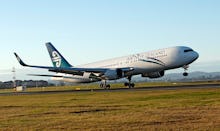 Here's a reason to stop hitting "ignore" when Sallie Mae calls: On Tuesday, authorities arrested a woman trying to board a plane at Auckland Airport for defaulting on her student loan payments. 
A representative for Inland Revenue, New Zealand's government tax agency, told the New Zealand Herald, that police had issued a warrant for her arrest, which had been their "last resort." 
The representative explained arrests "would only follow strenuous efforts to contact the borrower to make repayment arrangements — these would typically involve making phone calls, sending correspondence via mail and email to the borrower and attempting to contact them via any third parties such as nominated persons and/or any known employer." The Herald reported New Zealand authorities are monitoring 20 other people for student debt default.
Read more: This Chart Shows You Which Cases Allow for Student Loan Cancellation and Forgiveness 
In the United States, the government hasn't hesitated to crack down on student loan delinquencies either. In February, federal agents from the United States Marshals Service arrested a man in Houston, Texas, for failing to pay back a $1,500 loan. 
"Our federal resources, our U.S. marshals and the federal court system are being used by the private sector," Rep. Gene Green (D-Texas) told Fox 26 Houston at the time. "A few years ago Congress allowed the private sector to contract for student loan collections, and so you have these private companies that are doing this."
Class of 2016, you've been warned.