"Coincidence Detector": The Google Chrome Extension White Supremacists Use to Track Jews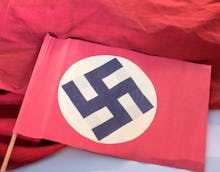 Impact
By
Cooper Fleishman and Anthony Smith
(Update: Google confirmed that on Thursday evening, after Mic published this story, the Coincidence Detector app was removed from the Chrome store for violating Google's hate speech policy. Google's Terms and Conditions for apps explicitly prohibit "promotions of hate or incitement of violence.")
A Google Chrome plugin with the seemingly innocent name of "Coincidence Detector" has one sole purpose: compiling and exposing the identities of Jews and others who are perceived as "anti-white." Drawing from a user-generated list of Jewish names, the extension works in the background while users browse the web and encases the names in three sets of parentheses — for example, (((Fleishman))) — on web pages. 
As Mic detailed in a story earlier this week, white supremacists have begun using the construction, called an "(((echo)))," to single out Jewish figures in media and entertainment for harassment online, particularly on Twitter.
For instance, using the extension and then navigating to one of our bios yields the following:
The extension has 2,473 users and boasts a rating of 5 out of 5 stars. It is connected to a database of names that is regularly updated. With the click of a button, users are able to refresh Coincidence Detector to make sure their list of known Jews and other "anti-whites" reflects the most recent additions to the database.
Coincidence Detector, which was uploaded by "altrightmedia" — a nod to the alt-right, a fringe conservative movement newly emboldened by the popularity of Donald Trump — says it "can help you detect total coincidences about who has been involved in certain political movements and media empires." The description is, of course, tongue-in-cheek: White supremacists believe Jewish involvement in politics, media and entertainment is part of an enormous conspiracy. The echo is intended to call attention to Jewish people's supposedly corrosive effect on white society throughout Western history. 
This is a screenshot of the app as it currently appears in the Google Store:
Read more: (((Echoes))), Exposed: The Secret Symbol Neo-Nazis Use to Target Jews Online
One Twitter user who downloaded Coincidence Detector praised the app.
"With this tool you begin to see patterns, constant bias, a common theme," @FamesBlond said. "You want it deny it, rationalize it, fine, but we see it constantly. And that plugin shows it."
While most people targeted by the white supremacist app only have the (((echo))) around their surnames, more prominent Jewish figures in the media — such as business mogul and former mayor of New York Michael Bloomberg — have parentheses around their entire names.
If a white supremacist using Coincidence Detector believes that a person pushing a Jewish, "anti-white agenda" has been excluded from (((echo))) targeting by the app, the user submits the name of the offending Jew to a centralized database controlled by Coincidence Detector's designer using the "Support" tab on the page.
Some users who downloaded Coincidence Detector left reviews expressing their disgust at the app's blatant anti-Semitism.
Others were satisfied:
June 4, 2016, 3:01 p.m. Eastern: This story has been updated.