6 Black Kids Who Are Already Business Moguls — And Inspiring Others in the Process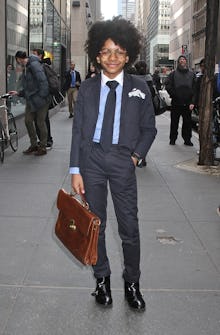 It's never too early to start your own business. 
Need proof? Look no further. These kids are more than black business owners raking in serious cash: They're using the opportunity to give back to their communities and inspire other children with parallel ambition and business savvy. 
Here are 6 black youth entrepreneurs worth celebrating.
1. Cory Nieves: Founder of Mr. Cory's Cookies
The business: Corey began selling hot chocolate outside his home and at a restaurant in his hometown of Englewood, New Jersey, when he was just 9 years old to help his mom buy a car. He has since expanded to selling cookies and lemonade, leading him to start Mr. Cory's Cookies, which sells all natural cookies. 
Press mentions: Cory was featured on Ellen and hopes to expand his empire, foraying into the fashion world. 
2. Mikaila Ulmer: Founder of BeeSweet Lemonade
The business: Selling lemonade became a multi-million dollar venture for Mikaila, who is 11 years old. She inked an $11 million deal with Whole Foods for her BeeSweet lemonade, which is based off her grandmother's recipe and doesn't use sugar or artificial sweeteners. 
Press mentions: Before the Whole Foods deal, Mikaila got $60,000 on Shark Tank to fund her venture — which is probably considerably more than you ever got for your lemonade stand.
3. Asia Newson: Founder of Super Business Girl
The business: Super Business Girl is an understatement when it comes to describing Asia: She founded her business when she was 5-years-old, selling candles and other merchandise in her hometown of Detroit. 
Press mentions: "Since I was about 4 or 5-years-old, I've always had, like, the vibe, or, like, I don't know, little power ball that keeps me going," Asia, who is known as Detroit's youngest entrepreneur, told ABC in 2014. 
4. Jeremiah and Joshua West: Founders of Champions of Change
The business: Brothers Jeremiah and Joshua founded Champions of Change when they were 8 and 6 years old, respectively. Their organization aims to teach their peers financial responsibility and to give back to their community. The brothers have written their own children's book and already command a speaking fee of $2,500 to $,5000. 
5.  Moziah "Mo" Bridges: Founder of Mo's Bows
The business: Moziah turned rocks into money, almost quite literally: He would trade bow ties for rocks on the playground, and at just 9 years old, used his innate fashion sense to start telling bow ties on his website. 
Press mentions: Turning down a $50,000 investment from Shark Tank's Daymond John, who is now his mentor, Moziah, now 14, has sold more than $300,000 in bow ties and accessories. 
6. Maya Penn: Founder of Maya's Ideas
The business: CEO, philanthropist, coder, animator and environmentalist. These are just a few of the titles Maya has earned at 16 years old. She founded Maya's Ideas, an eco-friendly line of clothing and accessories, at 9. 
Press mentions: She's given three TED Talks, and her clothes are sold internationally. "When you give through your heart, that's when movements are sparked, that is when opportunities and innovation are created and that is when ideas come to life," she told the crowd at her TED Talk in 2013.