UCLA Gunman Name Identified as Mainak Sarkar, LAPD Confirms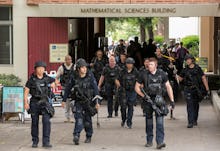 The Los Angeles Police Department named Mainak Sarkar as the gunman who opened fire at University of California, Los Angeles, on Wednesday, killing himself and a professor in what was ruled a murder-suicide.
According to CNN, Sarkar killed professor William S. Klug due to a "student-professor dispute."
The outlet reported chancellor Gene Block wrote in an email on Wednesday, "Our UCLA family has indeed been shaken, but we will rely upon the strong bonds of our community and our faith in one another as we begin the process of healing."