Arturo Castro of 'Broad City' Might Have The Best Munchies Recipe of the Year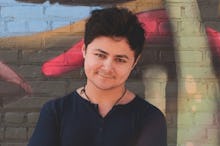 You don't need to be a good cook to know good food.
Case in point: Arturo Castro, who plays Jaime, the weed-loving, flamboyant bestie of Ilana in Comedy Central's Broad City. The Guatemalan-born, NYC-based comedian is the brains behind Tu Twist, a wacky four-part web series about cooking hacks. (Habla español? The series is completely in Spanish and you can watch it right here.) 
"I am a terrible cook — horrible!" Castro confessed on Facebook Live. His take on gourmet? Slather hummus, avocado, mortadella, mayo and Sriracha on a warm pita. Huh. 
The apple doesn't fall far from the tree when it comes to food prep. He said his mom "worked her butt off" to provide for the family and was a "practical cook," while his dad was notorious for serving peppered ham sandwiches after Castro lied about liking them when he was younger.  
"She would always put really nice twists on things," Castro said of his mom. He fondly remembered that she'd remove sandwich crusts for him. (D'aww.) 
Growing up in Guatemala, he had a literal avocado tree in his backyard. These days, he said it pains him to pay exorbitant prices to get his 'cado fix in New York City. "I stare down the cashier person like they literally hurt me," he said. 
Stoner food is more in Castro's wheelhouse
Castro has a pretty good idea of what Jaime, the perpetually high character he plays, would declare ideal munchie food. It'd have to have crunch and sweetness, he said: 
"You know when you put ice cream on a brownie and the brownie is still hot? And then you add peanut butter on top?" 
Yeah, we know.
Castro's favorite dessert in NYC isn't far off from Jaime's munchie fantasy, so maybe the two are more similar than the actor cares to admit. Castro's partial to the "peanut butter bomb" from Wild Ginger, a vegan restaurant in Williamsburg, New York. 
But when it comes to stoner food — or really just good food — Castro's got a hot tip that he says can't be beat: Cheesy microwave hotdogs. Watch as he demonstrates the "recipe" in the video below. 
So. Cheesy.