Bread Enthusiast Oprah Winfrey Plans to Launch a Food Empire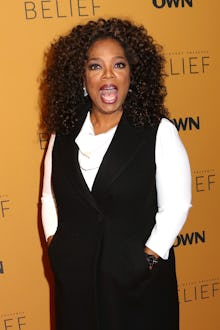 It looks like Oprah, the legendary talk show host and lover of bread, is adding food mogul to her resume. The New York Daily News uncovered that the Starbucks chai designer has applied for a trademark on a line of food products called Oprah's Kitchen. 
Like everything Oprah does, the line is big: The paperwork describes hundreds of products including "basic staples like dairy, meat, fish, processed and preserved foods, spices, juices, water, lemonade, baked goods, fresh fruit and vegetables," NYDN reported. 
The line doesn't stop there; the world may soon be eating Oprah bacon, Oprah baked beans, Oprah sorbet, Oprah pickles and even Oprah fruit leather soon. (Given her love of truffles, perhaps she'll sell a line of the pricey fungus too.) It appears as if the empire builder might be gearing up to take on Whole Foods — all she's missing is the components to an overpriced hot bar. 
Rumors of Oprah starting an organic food brand have been swirling for years, Grub Street pointed out. She already has a bit of a reputation in the food world: Her magazine offers up recipes and she has invested millions of dollars into Weight Watchers. 
There are no details as to when or where Oprah plans to release the line, but it'll most likely be major key, as DJ Khaled would say. In the meantime, Oprah should consider working on her own line of booze — all the celebrities are doing it.